Is the ridesharing industry saturated now?
No doubt there are already a lot of best ridesharing apps globally. However, as per Statista, the leading research site, the ridesharing market is expected to grow at 22.13% annually and reach $226 billion dollars by 2028.
The numbers are crazy, and to further prove our point – Arro, a taxi-riding app was launched in 2021, and has been running successfully in the US. The app has over 1 million downloads and hundreds of thousands of active users.
Therefore, if you're planning to hop on the market, then it's the right time to jump. Make sure to research the competitors correctly before jumping to a conclusion. To help you out, this post lists the best rideshare apps in 2023, along with crucial development queries, including how to create a ride sharing app. Note that it is also necessary to choose the right on demand app development company that can serve your needs and fill the requirements. Let us start with some basic information first.
Three Types of Ridesharing Apps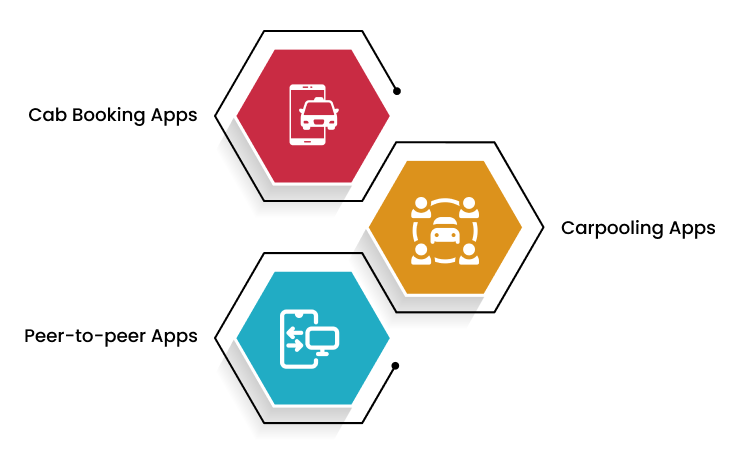 Cab Booking Apps – Apps that allow the driver of a vehicle or taxi to take the rider from one location to another
Carpooling Apps– Apps that allow a group of people traveling in the same direction to book a common ride and share the trip cost
Peer-to-peer Apps – Apps that allow automobile owners to rent their vehicle to another person for a set time and charge
Best Rideshare Apps – Statics
The ridesharing market is expected to reach $215 billion by 2025
Uber is a leader in the US market with over 76% market share, followed by Lyft
The total numbers of ridesharing users in the world are approximately 1.4 billion
9% of US citizens use ridesharing services daily
53% of ride-hailing users are females, as compared to 47% men
List of Best Rideshare Apps in 2023
1. Uber – Best Rideshare App
The first on the list is Uber – the disrupter in the transportation industry that started the whole trend. With over 110 million users, the app is headquartered in San Francisco and offers one of the highly competitive pricing as compared to its peers. Developing an app like Uber requires some serious skills and a good app development agency. The tech giant has also ventured into other business services such as food delivery, freight transportation, and package delivery.
Uber is currently valued over $70 billion and helmed by the CEO Dara Khosrowshahi. The app also features under best ride share apps for drivers.
Top Uber Features for Drivers
Drivers can also rate their passengers, as per their behavior and ride experience.
Special accommodation provided to specially-abled drivers.
Freedom to choose any riding service like Uber X, Carpooling, Package Delivery
Top Uber Features for Riders
Split the Total trip cost between shares easily
Multi Drop-off points and auto fare adjustments
Schedule the rides in Advance whenever required
Available in over 10,000 cities globally, making it a viable option
2. Lyft – Friend with a Car
Lyft is a top competitor of Uber and the second largest carpooling service provider app globally. The app marketed itself differently as a "Friend with a Car", giving users a personalized experience and a friendly ambiance. The app has acquired a 32% market share in the US, has over 2 million drivers, and secured revenue of $2.3 billion+ in 2020.
Notably, Lyft has a high repeat customer percent because of excellent customer service, transparent policies, and high driver safety. Hire iOS app developers with necessary experience and good exposure to build an app like Lyft.
Top Lyft Features for Drivers
Driver-specific app with robust features
Drivers can earn from the riders as part of the good service offered
Drivers can opt for a flexible schedule and have the option to mark any ride as the last one
Top Lyft Features for Riders
Riders can connect and book their favorite drivers again
All Lyft drivers pass through BGC (background check) ensuring high security
Also provides shared carpooling service to save money
The app offers liability insurance to riders
3. Ola – Best Rideshare App in India
Ola is the best rideshare app and car booking company in India and a direct competitor of Uber. The app has over 450,000 drivers and offers its services to cities across the globe. Some of its top services include cab & taxi booking, intercity travelling, bike booking, and delivery services.
Notably the app has a significant share in the market with over $7.3 billion valuation as of 2021, and is known for its cheap rides. Mobile app development companies need to build robust app that can handle a large number of users.
Top Ola Features for Drivers
24 x 7 customer support for drivers
Car leasing service available for drivers with no vehicle
Daily payouts to the drivers, ensuring healthy cash flow
Top Ola Features for Riders
Riders get comprehensive roadside assistance and insurance
Cabs are equipped with entertainment options such as music and videos
Both offline and online payment options
Advanced ride scheduling available with multiple options
4. Careem – Best Rideshare App in the Middle East and North Africa
Careem established its name successfully in the Middle East & North Africa region even after having tough competition from Uber. The app successfully understood the culture and the people to make its place in the market. With services in over 100 cities, the Dubai-based app has ventured into many other businesses as well such as payments, food & grocery delivery, ticket booking, service booking, and many more.
Note that Careem supports over 700,000 refugees by raising money through its rewards donation program. Finding a mobile app developer with ridesharing app development experience is crucial for top notch results.
Top Careem Features for Drivers
Drivers have the freedom to work whenever they want
Driver training available through different resources
Robust interface and features in the driver's app
Top Careem Features for Riders
Easy & smooth payment options
Reward program for riders
Highly Competitive Pricing
5. BlaBla Car – Share Your Ride Costs
BlaBla works a little differently from conventional car book apps like Uber & Ola. It is a French-based ridesharing app that allows users to list their vehicles on the app and empower other people to travel with them. The travelers share the expense of the trip, eventually reducing the overall trip cost for each party.
The drivers need to specify their route on the app. Similarly, the riders identify their required route and request the drivers to share the ride. BlaBla takes a 12% cut out of every successful booking and is a great option to save time, money, and the environment.  The app also comes under best rideshare apps for drivers list.
Top BlaBla Features for Drivers
Rating system for drivers – Bla for quiet ones, Bla Bla for talkative ones, and Bla Bla Bla for non-stop chatterboxes
Easy & quick to Post the trip for drivers
Option to accept or reject a request
Top BlaBla Features for Riders
'Women Only' option for female travelers and their safety
Last-minute ride booking feature
Affordable rides for cost-savers
6. Curb – Best Rideshare App for Long-Distance
Curb also comes under the best rideshare apps list in the USA just like Uber & Lyft. The app has a fleet of 50,000 taxis for users and is available in over 65 cities. The platform had a partnership with Uber to provide users with better transportation options. Curb also allows its users to book rides in advance with a nominal $2 charge. The app has been a success in the US market and collects over $10 million tips are given to drivers each month on the app.The app never charges surge prices and markets itself as a transparent pricing taxi booking app. Another USP about the app is that it pays taxi drivers better than other players and still charges less from riders, making it one of the best rideshare apps for drivers. Hire iOS app developers with on-demand taxi booking app development so that no major issues are encountered in the process.
Top Curb Features for Drivers
The app pays drivers better than other ridesharing apps in the market
Work whenever and wherever you want to; set your own hours
App provides real-time earnings and trip data to drivers
Top Curb Features for Riders
"Request Now, Ride Later" option for riders that want to book a cab in advance
'Pair & Pay' option if you are already in a cab, i.e. not booked through the app, and want to pay through the app
No surge prices after booking and a transparent & upfront pricing system
7. Gojek – More Than Just a Ridesharing App
With a market valuation of more than $10 billion, GoJek is a top Southeast Asia car booking app that has also ventured into other businesses. The service ranges from food delivery, logistics, and transport, to entertainment. The app is similar to Careem & Grab and is present in over five countries including Singapore, Indonesia, Thailand, and Vietnam.
Notably, the app is Indonesia's first decacorn and generates over $5.3 billion in revenue currently. Further, it is quite difficult to create a ride sharing app like GoJek as it requires building multiple layers and continuous improvements.
Top GoJek Features for Drivers
GoJek provides Health & Life Insurance to all the drivers
Training resources courses and videos to learn life skills, business, and English
Special discounts to drivers on groceries, fuel, and other expenses
Top GoJek Features for Riders
The app offers a wide range of services to choose from users, offering everything under one umbrella
GoJek offers customers easy & varied payment options, both online & offline
Robust customer support and quick complaint resolve
8. Gett – Israel-Based Best Rideshare App
Gett, the top ridesharing app in Israel, serves over 100 cities globally, including US, UK, & Europe. The app is known for offering cheap rides to users and doesn't charge extra during peak hours. The platform has a wide variety of riding options available, including limousines and cabs.
The services are similar to Uber & Lyft but the fares are less and the payout to drivers is better. Make sure to choose top Android app development companies as it demands better skills and latest tech tools.
Top Gett Features for Drivers
The app facilitates in-app tipping for drivers
Drivers can get daily payouts in their bank account
24/7 live support for drivers and easy resolution of complaints
Top Gett Features for Riders
Gett has one of the most affordable pricing among all the players
Users can book a car for continuous two weeks or more
The app has on-boarded one of the top-rated & professional drivers
9. Via – The Affordable Carpooling Service
Via is a top ridesharing app that operates in over 20 countries, under its brand in six countries, and through local partners in other countries. The app allows riders to book a car travelling in the same direction, i.e. carpooling. This way, the platform markets itself as a sustainable brand that reduces carbon footprints while saving money. Hire iOS app developers that have past experience in travel mobile app development for better results.The app is based in New York and was co-founded by Daniel Ramot with an aim to fill the empty seats of a car going in a particular direction. Notably, Via operates 24 hours and 7 days a week.
Top Via Features for Drivers
Drivers who do not have a vehicle, Via offers a 'rent a car' system for them to earn
Drivers are eligible to earn a commission upon successfully referring other drivers
A dedicated app is available for drivers to track earnings, trips, and much more
Top Via Features for Riders
Riders get an affordable commuting option by sharing the trip cost
Real time customer support available 24/7 for users
Users can earn free riding credits upon successful referrals
Corner-to-corner pickup service available to users
10. Bridj – Best Long Distance Rideshare Apps
Bridj is an on-demand bus service founded by Gabe Klein that allows riders commuting in the same direction to book a luxury shuttle with Wifi, leather seats, and more facilities. Currently, the app is working in Sydney exclusively and was acquired by Australia-based Transit System in 2017. Notably, Bridj is one of the best long distance rideshare apps in Australia and uses some advance mobile app development tools for its robust functionality.
The cost of a single journey is flat $3.10 or $1.6 for subscription card holders. The app is mainly used to commute a group of people, all manageable from the app.
Top Bridj features for Drivers
Bridj offers Training resources to drivers
Dedicated apps for drivers to track trip history, earnings, and more
Table access to all the drivers that track bookings
Top Bridj features for Riders
The app allows credit card payment for riders
The buses are equipped with top facilities like Wi-Fi, USB charging, and leather seats
Priority access to disabled people
Navigation to pickup locations is provided to riders
How To Develop A Rideshare App?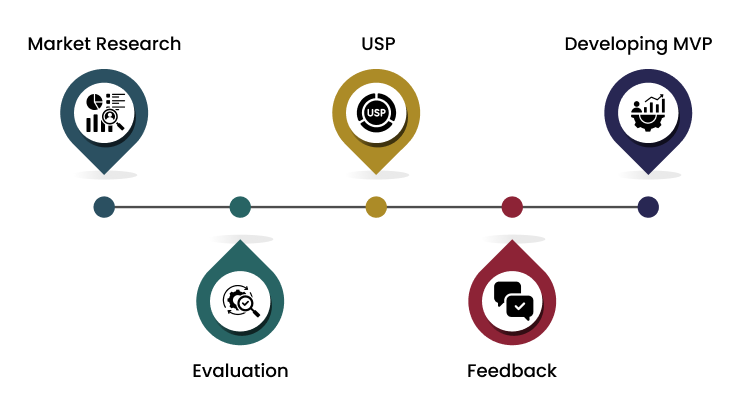 1. Market Research
Researching and analyzing the existing market is a crucial step for your platform's success. Start by observing the competitors and their strategies to understand the work required to be done. Come up with the vacuum that people feel in the industry and then try to fill the gap.
Know that the ridesharing and booking industry is growing at an unprecedented rate and there are already a lot of competitors in the field.
2. USP
Your ridesharing app needs to have a USP (Unique Selling Proposition) in the market to stand in the market. Identifying all the features and coming up with a product that offers better service than other players at an affordable price is the key to success. Notably, you need to understand the features of the three parties here, namely drivers, passengers, and admin.
The crucial question here is – how to come up with a USP for the product? By researching and analyzing the current market conditions and competitors. You will come up with current shortcomings and the solution to address them.
3. Developing MVP
MVP stands for 'Minimum Viable Product' and developing an MVP is essential to test the product and attract early users. You also have the option to launch a fully developed finished product but the solution is not cost effective. The primary use case of an MVP is to build a basic application with all the important functionality. It can be helpful in gaining valuable feedback and captivate investors.
However, make sure to hire only a trusted on-demand app development company for a viable finished product.
4. Evaluation
Product evaluation is necessary prior to launching your product in the market. Getting your ridesharing app tested by a Quality Analyst professional ensures smooth running. It also makes sure no bugs and issues after the release.
5. Feedback
Once the product is launched in the market, collect the required feedback from the users. It helps in gaining valuable insights and the changes required to make it a success. The process also helps in building a finished & fully functional product.
How Much Does it Cost to Develop Rideshare Apps?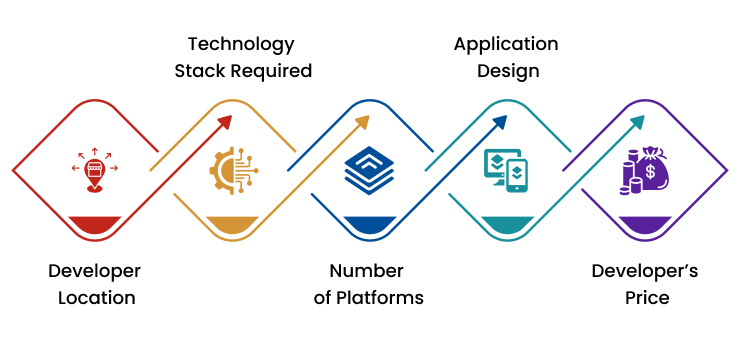 The cost of developing a ridesharing app varies greatly, depending upon the functionality and several other factors. Some of the top factors that influence the cost to build an app like Uber are –
Developer Location
Technology Stack Required
Number of Platforms
Application Design
Developer's Price
However, the total cost will still range between $50,000 and $100,000, depending on your requirements. To give you a good idea, the per-hour cost of development company in India is between $20 and $40. Below is a table that describes the cost to develop an app like Uber with an average rate of $30/hour.
Closing Thought
So, this was the final list of best rideshare apps 2023 that people are using most. Even after Uber pioneered the industry, many other competitors still came and made a mark in the industry. If you want to build an app like Uber or Lyft, then choosing a app development agency with the required skills is necessary. A good partner will assist you in the market as well as the development journey.
Best Ridesharing Apps – Top FAQ's
1. What is the best app for getting a ride?
Uber & Lyft are two best rideshare apps globally that offer affordable services to users along with complete safety.
2. What rideshare apps is the cheapest?
Indian ridesharing app, Ola, offers most affordable ridesharing solutions to users.
3. What is the most profitable ride share?
Uber is considered the most profitable cab booking company crossing revenue of $31.8 billion in 2022.
4. How much does it cost to build a ridesharing app?
A ridesharing app costs anywhere between $60,000 and $200,000, depending upon several factors
5. What Future does Ridesharing Apps Hold?
Ridesharing app market is expected to reach $218 billion by 2025 with a CAGR of 22% from 2020 to 2025.