Imagine… you and your beloved partner are out for a lovely dinner and suddenly realize that you slipped bringing food to your dog who is currently starving at home. You do not want to ruin the dinner date and hope that someone could go to the market for you, bring some dog food, and then deliver it to your home.
This is what actually happened to Leah Busque, the popular Handyman apps' founder, i.e. TaskRabbit.
She realized the opportunity and launched TaskRabbit, a handyman app that soon became a tech giant. The industry is still growing and has immense potential. For reference, the overall handyman market is expected to generate over $8.9 billion in 2024 in the US alone.
Apps like Thumbtack and other handyman apps are already in the market. Such platforms are making good bucks in the market. If you also want to get into the industry, then this is the perfect time to take the leap. We are here to tell you everything about handyman apps like TaskRabbit, including top alternatives to analyze, the cost & time required to develop, and some other vital info.
Let us start with understanding the industry with some stats!  
In 2020, the handyman apps industry garnered over $7 billion in revenue
An average handymen service provider makes $35 per hour in the USA
There are over 162,000 handymen registered in the USA, 60% of which are millennials, as per the US Census Bureau
Over 80% US citizens need handyman apps like Thumbtack service at least once a year
What is TaskRabbit?
TaskRabbit is an online handyman marketplace that connects users with skilled workers such as electricians, plumbers, carpenters, packers, and movers. Apps like TaskRabbit are great options for people who are looking to get their odd jobs done by specialists. The app operates in over 50 cities globally and was founded by Leah Busque in the year 2008.
TaskRabbit is the pioneer in the handyman apps service industry and started the trend back in 2008. It enables customers to locate dependable and competent Taskers who can assist with a variety of housework jobs. TaskRabbit offers a range of home improvement services, from simple fixes to extensive renovations.
The app is also great for service providers and enables them to earn money. Taskers can create their profile; fill in all the required information, and then start getting work.
Key Features
Wide Range of Services: TaskRabbit is a one-stop shop for all your handyman needs thanks to its extensive task selection.
Thorough Vetting: Taskers are rigorously vetted to ensure the security and dependability of the experts.
Task Tracking – Users may track the progress of their Taskers and get real-time information.
TaskRabbit – Key Stats
Launch Year: 2008
TaskRabbit Founder: Leah Busque
Acquired by: IKEA
Headquarters: San Francisco, California, U.S.
Industry: Online Marketplace (eCommerce)
Funding Amount: $37.7M
Acquisitions Made: 2
Lead Investors: 3
Funding Rounds: 7
How Does Apps like TaskRabbit Work?
TaskRabbit is a top handymen app that enables customers to locate dependable and competent Taskers who can assist with a variety of housework jobs. Apps like TaskRabbit offers a range of home improvement services, from simple fixes to extensive renovations. The app works differently for different users, i.e. task posters & task doers –
TaskRabbit Work for Task Posters –

TaskRabbit for users or task posters is simple to operate. You can hire a candidate for the work in just a few clicks through the following method –
1. Registration
Users need to install the TaskRabbit app available on the App Store & Play Store. There are multiple options to sign up on the platform. Once registered, fill in all the details and create a profile.
2. Searching
The next step is to find the right candidate for your work. The app allows term-based searching and then filtering out decisions to choose the best profile. Users can also hire multiple candidates for different work and then form a team. For instance, if you want to get your home renovated then searching for "Home Improvement" or "Home Renovation" will provide the required resources.
3. Hiring
Hiring a task doer on TaskRabbit is a quick and easy process. Once you find a suitable candidate, open their profile and check ratings & feedback to make an informed decision. Tasker's profile has all the required information, along with past work. Once you hire a candidate, you get a notification confirming the transaction.
TaskRabbit Work for Task Doers –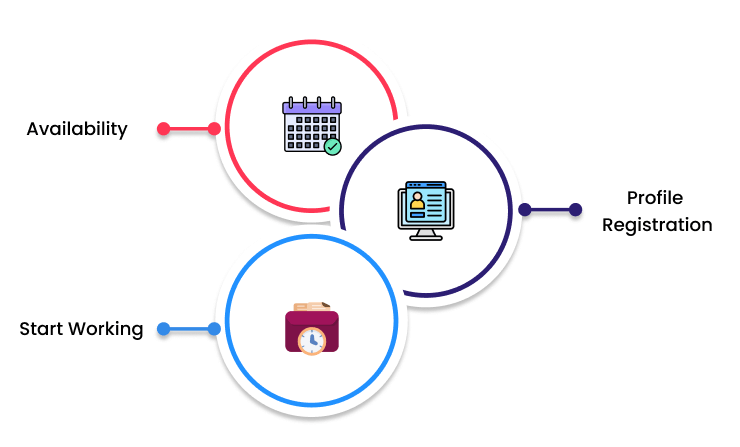 TaskRabbit is a great platform for task doers and provides them with genuine, worthy work. Task Doers can register themselves with an easy three step process –
1. Profile Registration
Task doers have to sign up on the app as "Taskers" and fill in all the required details, including name, experience, skills, and some essential details. TaskRabbit verified the profile through different means, such as a social security number. Once the verification is done, you are eligible to work as a Tasker.
2. Availability
A tasker needs to pay a one-time $25 charge to the app to get started. They also need to set their location and available dates to receive work. Set the locations that are near you and set the hours when you are available.
3. Start Working
Once taskers are done with all the information, they start getting work in their respective fields. You need to accept the work as soon as you receive a request. Note that taskers are charged 15% of the whole transaction but the tip is 100% given to the worker.
Fun Fact – Handyman apps like TaskRabbit are expected to generate over $8.9 billion in revenue in the USA in 2024
So, this is how apps like TaskRabbit works. Note that to build such apps, you need to ensure that it works fine for both parties, i.e. task doer and task poster. Make sure to hire experienced Android app development companies to get a good final product.
How Does TaskRabbit Make Money?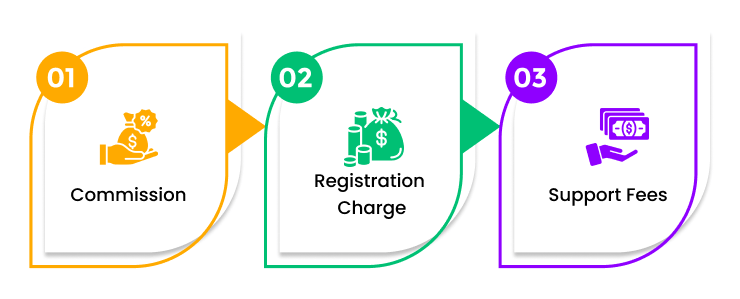 TaskRabbit made over $81 million in 2022 by following three primary revenue models, which are as follows –
Revenue Source 1 – Commission
TaskRabbit charges a flat 15% commission from taskdoers for every successful transaction. Taskers are paid mainly based on their skills and per-hour price. Further, TaskRabbit doesn't take a cut in any reimbursements or tips given to the tasker.
Revenue Source 2 – Registration Charge
The platform also charges a flat $25 from the taskers upon registration. The charge is to on-board only serious candidates.
Revenue Source 3 – Support Fees
Every task poster is also charged a 7.5% fee on the invoice made in the name of "Trust & Support Fees". The fee is applied to only successful bookings. 
Top Handyman Apps like TaskRabbit Alternatives – with Features
1. Thumbtack
Another well-known handyman app that links customers to nearby experts is Thumbtack. It is renowned for having a wide range of service providers in many categories. Thumbtack, launched in California in 2008, currently serves over 1000 on-demand services all over the country. Some of the top services offered by Handyman apps like Thumbtack include beauticians, plumbers, carpenters, personal trainers, packers, movers, and much more.
The app also provides ratings, service provider details, and pricing to help you choose the right candidate. The app has over 1 million downloads and has a market valuation of over 3.2 billion US dollars.
Key Features
Customized quotations: Users can compare offers from various providers and request quotations for particular activities.
Verified Reviews – Thumbtack offers verifiable evaluations and ratings to assist consumers in making wise judgments.
Upfront Pricing – The app follows an upfront pricing policy without any hidden charges from the customer
2. Handy
Apps like Handy offer a range of domestic services, including cleaning and furniture installation. It offers a simple and practical method for scheduling reliable specialists. The app has excellent customer support and responsive user interface & experience for users. Users can book a service 24/7 and at no cost. However, note that there are cancellation and rescheduling charges.
The New York-based company's most requested service includes furniture assembling, cleaning, painting, and plumbing.
Key Features
Easy Booking – Booking quickly allows customers to book services with the utmost ease.
Money-Back Promise: Handy provides a money-back promise for subpar service.
Safe – All the service providers are hired after a thorough background check
3. Porch
Porch is a special handyman app that helps users get inspiration and ideas for home renovation projects in addition to connecting them with professionals. Apart from this, the platform's easy and intuitive design aids the customers in searching for and booking an appointment.
Apps like Porch offer reliable housekeeping services such as home repair, furniture assembling, security installation, moving, packing, electrical works, HVAC system installation, etc. Further, the app allows booking the service in advance and scheduling it for the future.
Key Features
Tracking – Porch gives people the ability to see their home repair initiatives.
Chat with Taskers – Users can interact with specialists and submit quote requests.
Porch Concierge – The platform allows users to connect with local handymen service providers through the in-app phone service Porch Concierge
4. Angie's List
Angie's List is renowned for its enormous database of service providers, which includes handymen, contractors, and other professionals. Users have access to reviews and ratings to help them make wise decisions. The app provides handymen specialists near you and offers services at affordable rates.
Some of the top services offered by the platform are appliance repair, pest control, installation, and cleaning. Angie's list is available on Android as well as iOS and is an affordable option to hire professionals.
Key Features
Transparent Rating – Reviews submitted by members are displayed on Angie's List, guaranteeing their validity.
Fair Pricing – Users can anticipate paying a fair fee for the services they need.
5. Urban Company
Urban Company, formerly known as Urban Clap, is Asia's best handymen service provider app and allows book at-home services easily. The app offers a wide range of services including wellness, beauty services, home maintenance, cleaning, and repair services. With over 5 million customers, the platform offers 50+ services and 24/7 customer support for users.
The app's user interface, easy customization options, and platform availability make it a hit in the market.
Key Features
Skilled Professionals – Urban Company has a comprehensive list of highly trained and well skills professionals
Wide Range of Services – The app has over 50+ essential services that help users
Customer Support – Users can connect with the customer support & help center in case of any query
Transparent Pricing – The app follows transparent pricing and allows booking the service at a fixed rate without any hidden charges
6. AllBetter
AllBetter offers reliable handymen services to people looking for experienced contractors. In other words, it is a neighborhood handymen app that facilitates booking local services through contractors. AllBetter provides a list of all the available professionals for every project. Further, users can also make the in-app payment and keep track of their favorite service providers.
Some of the top services include installation, moving, packing, cleaning, and mounting. The app has over 12,000+ high-quality service providers.
Key Features
Smart Monitoring – AllBetter allows tracking and monitoring of all the services booked through the app
Payment Gateway – The app also provides varied options to make payments within the app
Schedule A Service – Users can schedule a service in advance and choose a provider as per their budget.
7. HomeAdvisor
HomeAdvisor, formerly Service Magic, is a digital marketplace that connects people with local service providers. Top services include home maintenance, improvements, and remodeling work. The app acquired Angie List in 2017 and is currently headquartered in Denver, Colorado. An app like HomeAdvisor focuses on home maintenance and repair services. Users can utilize it to locate regional experts who can handle tasks like remodeling, landscaping, and repairs.
All the HomeAdvisor taskers go through a financial as well as criminal background check and are prescreened based on their skills.
Key Features
Pro Finder: With their precise requirements, consumers can find professionals with HomeAdvisor's Pro Finder tool.
Cost Estimation – Users can use a cost guide to determine the costs associated with their projects.
Integrations – HomeAdvisor allows booking the service through Facebook and integrates Echo and Apple Watch easily.
8. KnockNok
KnockNok, the North America-based Home Improvement marketplace, was started in 2019 and currently hosts over 1500+ service providers. The taskers are screened thoroughly, both financially & criminally, before onboarding them. The app offers services such as remodeling, pool care, automobile repair, appliance repair, and many more.
The app hosts several top categories and provides users with the best match for their requirements. You can do an instant chat with the tasker to discuss your issues, take assistance, as well as book them through the app.
Key Features
Instant Assistance – The app allows instant issue resolution through online assistance by Handymen
Adaptable Communication – KnockNok allows sending videos, audio, and chats to taskers for better communication
Flexible Payment – The platform offers flexible payment options to users
9. HOMEE
Last on the list is HOMEE, a handymen service booking app that hosts over 1000 vetted home service providers ready to deliver within 30 minutes. The app's USP lies in its pricing system that charges users as per the minutes worked. This is a pretty straightforward method to charge customers and allows transparency to both users and taskers. Some of the other top features include real-time monitoring, 24/7 support, easy payment methods, and a wide range of services.
The app is available on both Apple Store and Play Store. Make sure to hire top android app development companies as it requires good technical skills to build handyman apps like Homee.
Key Features
24/7 Support – The platform offers 24/7 support to customers for resolving their queries
Fast Service – You can book a service through the app and get it delivered within 30 minutes
Simple Pricing – Homee follows a simple-to-understand pricing system, i.e. charge per minute with an in-built app timer
10. JOBOY
JOBOY is a leading home service provider that offers top facilities such as deep plumbing, cleaning, repairing, appliance installation, and much more. The platform was launched in India in 2016 and is now serving globally including Canada, UK, and Azerbaijan.
The app is also involved in lifestyle services such as surprise gifts, flower delivery, and food delivery. The app's user interface allows easy navigation and several payment methods.
Key Features
Fixed Prices – JOBOY charges fixed price to its users and thus follows a transparent pricing policy
Easy Login – Users can log in using different social media channels such as LinkedIn & Facebook
Simple Management – The app also allows simple task & appointment management
How Much Does It Cost to Build Apps Like TaskRabbit?
The cost to develop an app like TaskRabbit is completely variable and depends upon several external and internal factors. Some of the top factors that influence the cost of building apps like Thumbtack or TaskRabbit are –
Features and Functionality required in the app
App design & complexity, i.e. UI/UX required
Development Team location
Number of Platforms
However, to give a rough estimate, the cost to develop a TaskRabbit app clone revolves around $30,000 to $60,000. The basic version will cost between $10,000 and $15,000 and increases gradually as complexity rises. The cost also depends upon the iPhone app development companies you choose.
The average time required to build a TaskRabbit app clone lies between 3 months – 9 months. Note that the top mobile app development companies charge around $20 per hour and $40/hour/
Fun Fact – Over 25% of US houses built encounter a maintenance issue, suggesting a high future demand in the industry.
How to Build App like TaskRabbit?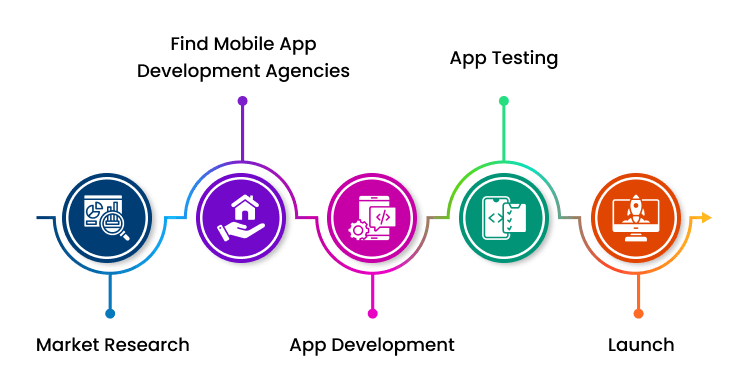 It is best to hire iPhone app development companies if you want to develop an app like TaskRabbit. These companies have the required resources as well as experience to craft a robust, intuitive application, for different platforms. The steps required to build an app like TaskRabbit are –
Step 1 – Market Research
The initial step is to do your homework right and be rest assured if you are really interested in Handyman apps. Further, it is crucial to determine your target audience and the list of services you will be offering to them. Also, build a solid plan to execute everything from start to end.
Step 2 – Find Mobile App Development Agencies
The next step is to find some good react native app development companies that suit all your requirements at an affordable price. The chosen company should have the past experience and expertise to build handymen apps. Also ensure that the mobile app development agency has the latest tech & tools, and the required talent pool to build the app for you at the best rate.
Step 3 – App Development
Android app development companies then start the work with wireframing the app design. Make sure to be a little choosy about the UI/UX of the app and get the best output. Once the App design is final, the frontend & backend development work starts.
Step 4 – App Testing
Once handyman app development is done and approved by you, the platform is sent to the QAs for testing. This phase ensures that no issues or bugs come to the user. A minor bug can disrupt the user experience and ruin the functionality.
Step 5 – Launch
Once the testing is done and all the bugs are fixed in the app, the final step is to launch the app. It is wise to launch the app in phases and to limit users in the starting for feedback gathering and required updates. Also, make sure to strategize marketing the app to the users for its success. Good mobile app development agencies also make ensure a successful launch and guide you through the whole system.
Final Thought
So, this was all from our side. We've tried to cover everything in the write up and give you a comprehensive idea of handyman apps like TaskRabbit. The handymen industry is growing at a rapid pace and all the TaskRabbit alternatives are doing good business in the market. This is a right time to jump if you are thinking to get into the industry. You can consult an android app development company to get your development queries resolved. They will understand your requirements and also guide you through the right process.
Build Apps like TaskRabbit – Top FAQs
1. What is a Handyman App?
Handyman apps are online marketplaces that are used to connect people with laborers and skilled workers like electricians, plumbers, furniture workers, and more.
2. What are top Apps like TaskRabbit alternatives?
Some of the top handyman apps like TaskRabbit are Thumbtack, Urban Company, Angie's List, Homee, and Handy.
3. How much does it cost to build handyman apps like Thumbtack?
Handyman app development takes approximately $30,000 to $60,000. However, the actual cost depends upon the functionality and design.
4. How Much Time does it take to Build an App like Taskrabbit?
The ideal time to build an app like TaskRabbit is 3 to 9 months. Handyman app development time depends upon the developer, functionality, and design.