When was the last time you decided to explore a new place? In the early days, planning your trip was a bit challenging. From booking flights, trains, and buses to finding leisure accommodations, travel agencies seem to be indispensable.
Travel mobile apps, however, have changed the way things are done completely. Travel agencies are nowadays in decline and people prefer to use mobile apps to plan their trips conveniently from the comfort of their smartphones.
The rising popularity of travel mobile apps inspires a lot of entrepreneurs to invest in travel app development to build a profitable business.
Here in this blog, you will walk through all the prerequisites required to build an app for travelers.
Now let's get started.
Insights into the Travel Mobile App Development Market
Let's take a look at the statistics related to the growth of travel apps before we start our journey of travel mobile app development:
The revenue from travel mobile apps is estimated at US$333.40m in 2022. By the year 2026, the market is expected to reach a revenue of US$507.00m.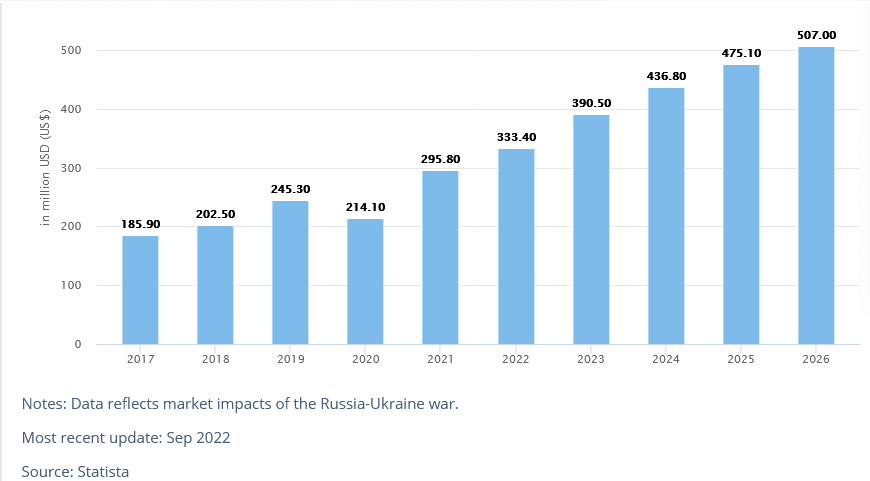 Image Credit: Statista 
In terms of region-wise comparison, China is leading the world by generating approximately2 million U.S dollars in revenue. United States (US) with 62.52 million U.S dollars following China in the race.
Image Credit: Statista
According to Think With Google, In Asia pacific region, 83% of smartphone users have installed any kind of travel app on their devices. At least 61% of smartphone users have used the app at least once, and 36% say they do so regularly.
Talking about the most downloaded travel apps, Google Maps secured the first position registering around 106 million accumulated downloads on iOS and Google Play Store. Uber with 94 million downloads secured the second position. With 63 million downloads, Booking.com placed in the third spot. (Source: Statista)
Talking about the accumulated number of downloads in the travel segment. In the year 2022, there are 2,308.2m downloads recorded. (Source: Statista)
How Travel App Development Emerging As a Remunerative Business Opportunity?
After the pandemic, the popularity of travel mobile apps took a hit. The easy accessibility of smartphones to people further increased the popularity of tourism applications. Below we have outlined a few of the benefits that are becoming the mainstream of tourism app development:
Effortlessly Meeting All Travel Requirements
This is one of the biggest comforts delivered by online travel applications. The process of booking flights to secure keys to a luxury hotel room to cherish your traveling journey can all be done online with just a few taps of a finger.
Resemblance to Several Choices
With the help of tourism mobile applications, travelers have access to a wide variety of luxury accommodations, cheap flight options, and more. Therefore, they can opt for the best option that meets their needs.
Instant Availability of Information
Whether you want to inquire about the vacant rooms in your desired hotel or the availability of flight/train/bus, a travel app will make all this information available to you with a few simple clicks.
Key to Better Customer Experience
If you are running a tourism business, travel mobile app development will lead you to build a better customer experience which will consequently result in better customer acquisition. All the tourism-related services will be accessible to your customers at their fingertips providing them great ease to explore them according to their convenience.
Consolidate the Entire Process
All the operations required to run your travel business can be done in a streamlined manner completely online. Starting from customer onboarding to offering customized services, all can be done through mobile applications resulting in the improvement management process and reduced need for paperwork.
A Few Travel Apps Far-Reaching the Market
Here we have outlined a few of the best travel apps that have gained a lot of fame in recent days, and their success become the aspiration for tourism business owners:
1. Airbnb
App Category
Accommodation booking
Reviews and Ratings
Play Store: 4.5/5 (13.8L reviews)
App Store:  4.6/5 (9.8K ratings)
Downloads
100,000,000+
Revenue Estimation
5.99 billion U.S. dollars
Usages Statistics
45.6 million
Airbnb is one of the best travel apps that allow travelers to find unique accommodations around the world. The application is not only meant to be used for finding luxury accommodations only, by applying the price filter even budget travelers can find a unique home for themselves.
2. Booking.com
App Category
Accommodation, flight, and rental car booking
Reviews and Ratings
Play Store: 4.6/5 (35.7L reviews)
App Store:  4.8/5 (819.3k ratings)
Downloads
50 Cr+
Revenue Estimation
1,096 crores USD
Usages Statistics
511.0M
Bookings.com app serves as the one-stop destination for managing all your travel-related needs starting from accommodations, flights, car rental, taxis, and more. The most talkative feature is last-minute travel. The app allows you to book hotels or flights at the last minute quickly.
3. TripAdvisor
App Category
Hotel and flight booking
Reviews and Ratings
Play Store: 4.5/5 (14.2L reviews)
App Store: 4.8/5 (819.3k ratings)
Downloads
10 Cr+
Revenue Estimation
902 million U.S. dollars
Usages Statistics
490 million
TripAdvisor is yet another travel planning app that provides the travelers appropriate guidelines to help them get the most out of their trips. Whether you are looking for a luxurious stay, tours, or activities to make the trip memorable. TripAdvisor got you covered with all your travel needs.
The Best Travel App Ideas That Can be Your Next Big Obsession
Aspired by the growth of travel planning apps? Here we have got recommendations of a few of the best travel app ideas that you can implement to build a profitable business:
1. VR-Based Travel Apps
Could you imagine traveling to someplace without actually being there? Virtual reality (VR) is one of the emerging technologies that is allowing travelers to explore different locations worldwide in a 3D environment.
You can develop a VR travel app to establish yourself in a captivating market. Such applications will allow travelers to explore the hotels in the 3D environment to choose the best one that will cherish their trip.
The market for VR-powered applications is also growing exponentially. VR-based travel apps are expected to reach a market value of $6.5 billion by 2020, up from $448.10 million in 2020, according to Allied Market Research.
2. An App to Find Information Regarding Local Public Transportation
One of the biggest challenges travelers come across is getting the right information regarding the local transportation of the place they are visiting. It wouldn't be hard to imagine that a mobile app with information about local transportation would create a buzz among travelers.
3. Bike and Car Rental App
The freedom of driving a vehicle is often more appealing to people than sitting in the back seat. Therefore car or bike rental business is one of the lucrative opportunities.
According to Precedence Research, the global car rental market was valued at 102.08 billion in 2021. By registering a CAGR of 6.9%, the market is projected to reach 186.59 billion by 2030.
4. An App to Help You Find Travel Plans
In the hunt for a travel partner with similar travel goals seems like a bit of a challenging thing. There are a huge number of people who are eager to explore different locations but afraid to do so as they are alone on the journey.
Therefore mobile applications allow people to connect with other people who share similar travel goals. The market for such applications is getting famous day by day. You can also develop a similar application as there is less competition and huge potential to grow in the future.
5. Travel Insurance App
Travel planning comes with its own perks and seat backs. It is imperative that you are prepared to meet any challenges that come your way and travel insurance goes a long way in helping travelers in doing so.
By developing a travel insurance app, you can ensure the easy accessibility of insurance policies to travelers.
The market for travel insurance apps is also growing at a rapid speed. According to a report from Allied Market Research, the global travel insurance market was valued at $12.38 billion in 2020. With an impressive CAGR of 26.1%, the market is poised to grow to a value of $119.31 billion by the end of the year 2030.
How do Travel Mobile Applications Make Money?
Travel mobile application development is a lucrative business opportunity. Although like other applications, tourism app development also requires a significant amount of cost. Therefore, you should be informed about the different monetization models that you can opt for to make a profit from your application.
Below we have given you a sneak peek of the monetization models that you can opt for to create revenue from your travel planning application:
Commission Fees
This is one of the most effective and easiest ways of monetization strategies that you can opt for. You can charge a commission for each booking made through your application under this monetization model.
This model creates a win-to-win situation for both app developers and listing owners. In exchange for a small commission fee, listing owners can receive hundreds or thousands of bookings.
In-App Advertisements
In exchange for placing advertisements on your app, you will be compensated for every click on your advertising. The only downside of the advertisement is that sometimes they become annoying which will result in reduced customer satisfaction.
You should place relevant advertisements on your application to cope with user dissatisfaction.
In-App Purchases
You can offer access to the majority of features of your application at no cost. There is, however, an option to restrict access to some features. Therefore, users need to pay a certain amount to ensure access to those features.
Premium
This model works best when you have a large user base and your application is popular among travelers. Under this monetization strategy, you can ask people to pay a premium fee on a monthly or yearly basis to access your application.
How Much Will Travel App Development Cost?
Now let's figure out how much it costs to develop a travel mobile app. The cost of the development is an accumulative effect of multiple factors as mentioned below:
Development platform of your application
Complexities involved in your project
Technology stack you have chosen
App developers region
Team size required to work on your project
As you know these factors cannot be the same for two projects, therefore providing the estimation of the cost is not feasible. You can schedule a consultation with your app development company, share your requirements with them and they will provide you with the cost estimation.
How to Turn Your Travel App Development Vision Into Reality?
The response that travel-related mobile apps are receiving is surely a great source of inspiration. Nowadays people are preferring to meet all their travel-related needs conveniently using travel mobile applications. Thus it is the right time to invest in tourism app development to make a profitable source of income for your business.
Now, let's come to the question of how to bring your travel mobile app development idea to reality. The very first thing you need to do is get familiar with your idea properly and after that hire an app development company that holds the right expertise in accomplishing your idea.
Choose one of the best app development agencies and prepare a development roadmap to make sure the successful execution of your idea.
Frequently Asked Questions
What are the different types of travel apps available in the market?
Below we have outlined the different types of travel apps based on their purpose:
Travel Itinerary Planning Apps
Tickets Booking Apps
Accommodation Booking Apps
Travel Insurance Apps
Travel Guide Apps
Currency Conversion Apps
Language Translate Apps
Travel Finance Apps
How to choose the best travel app development company?
The success of tourism applications greatly depends upon the selection of the company. You can take recommendations for the best companies from the list of App Development Agencies. We have rounded up the companies after thorough research and all of them are industry-leading companies driven by rich expertise in travel app development.