Books are considered to be one of our best friends. Most of us spend our leisure time reading books. The habit of reading books has remained the same over time, but the way to access books has changed drastically. Today, you do not have to search a library bookshelves to find a book to read thanks to the development of an eBook app like Kindle.
Click on the book you want to read, open the eBook reader app on your smartphone, and enjoy reading.
Due to the convenience eBook reader app provides, their popularity is skyrocketing.
According to Statista, the revenue for the global e-reader market was estimated at US$18.13 million in 2020. By the year 2026, this revenue is expected to grow to US$23.12 million. 
As a result of this increased popularity, many entrepreneurs are considering developing an eBook reader app to generate revenue.
This blog will present you with a comprehensive guide on how to develop an eBook app like Kindle.
So, let's get started.
Why Should You Build an eBook App Like Kindle?
If you are an avid book reader then you are already familiar with the best eBook reader app Kindle. Easy to use interface and availability of a plethora of books on the platforms are what fuel the growth in the popularity of the Kindle app.
Here are a few reasons that prove that investing in Kindle app development is a lucrative decision:
Statista estimated that by the year 2026, there will be around 18 billion eBook users globally.
The revenue of the global eBook market is also expected to increase to US$23.12 million by the year 2026 as per estimates by Statista.
The total number of eBook apps downloaded worldwide is also expected to rise. As per Statista, there were around 2.2 million downloads in the year 2021. By the year 2026, these download numbers are expected to rise to 3.8 billion.
Millennials are the primary users of the eBook reader. As per Statista, nearly 42% of adults aged between 18-29 years had read eBooks.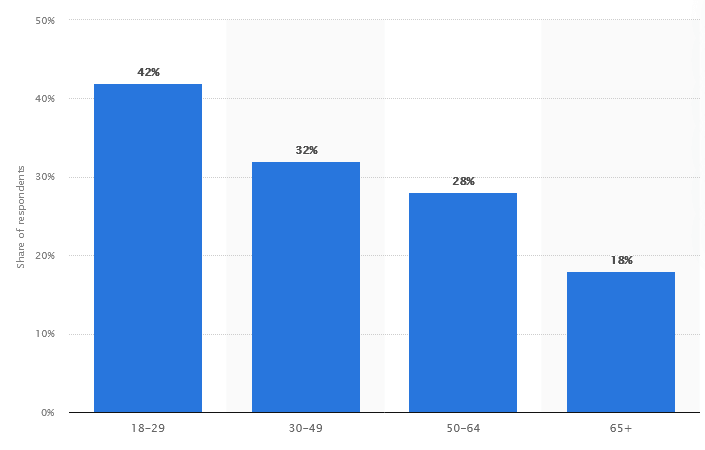 Image Credit: Statista.com
With these factors in mind, it is clear that the market for eBook reader apps is a growing one and is likely to generate a significant revenue stream. In this regard, the eBook app development idea is one of the best ideas worth turning into reality.
Essential Features to Make the Best eBook App
After making the decision of developing an app like Kindle, you need to settle on the list of the features you want to include in your app and this is where the real struggle begins.
The thought of adding all the features that come to your mind seems cool at first, but it will add up to the development cost and make your users confused. So the best thing you can do is make a list of the essential features and integrate them into your application. As your application progresses, you can add features based on the needs of your users.
Here is a list of the essential features that make the best eBook app:
User Sign Up/Login: Sign up or login is the process of recognizing your users. You need to make this process easy and convenient to ensure your users can accomplish it without facing any difficulty at any stage. It is also needed to include multiple options like social media, email, phone number, etc. so users can easily pick the best login method that seems convenient for them.
Catalog: On successful login, you should redirect your users to a page where they can see the catalog of the different genres of the books available on your app. On this page, you can also display a featured list of the most popular books on your app.
Audio Books: In order to keep your users engaged with your eBook app development project, you should also consider integrating this feature. You can integrate the text-to-speech feature to enable the app to read out the book.
My Library: This feature comes in handy for you to enable users to access all their purchased or downloaded places from one single panel. 
Payment Gateway Integrations: You should integrate a secure payment gateway with your mobile app to make sure your users can easily make payments for purchasing books.
Social Sharing: This feature is not only beneficial for the users but also helps you boost your reach. The users can easily share the books on their social media accounts.
Gamification: This feature is proven to be best for promoting users to read books on your app by offering them intuitive rewards.
Review & Ratings: The users can easily review and rate books on the platform to allow other readers to know about the books. They can share their personalized thoughts about the book.
Reader-Friendly Interface: The interface of the application should be user-friendly. It should be aligned with the user preferences and offer them easy navigation.
Content Uploading: Individual book writers can publish their books on your platform to see how readers respond to the books by evaluating readers' reviews and ratings.
How to Develop an eBook App Like Kindle?
After having a list of the features to be built with your eBook reader app, the next thing you have to do is to know how to develop an eBook app like Kindle.
eBook app like Kindle development is a hassle-free journey as long as you know what to follow;
Choose an Exciting Niche
At first, you might be thrilled to cover all the niches in your eBook application. But it is not a good idea as it will increase your development cost and so on. So, you should always start with the basics. Find a niche that excites you the most. For instance, if you are a fan of comic novels from a variety of genres like mystery, drama, and adventure, then you should start with the same.
Choosing the niche of your choice will improve your chances of seeing success and will aid in the growth of your mobile app.
Personify Your Readers
After choosing the niche of your app, the next thing you have to do is find your targeted audience. By having a comprehensive knowledge of your target audiences, you will be able to adopt more effective marketing strategies.
How Much Does it Cost to Develop an eBook App?
The cost to develop an eBook reader app is subject to multiple factors including app development platforms, cost, functionalities, technology stack, integration of third-party tools, and so on. The selection of the mobile app development company also influences the cost of development.
Since every project differs in these aspects, the cost of eBook reader apps like Kindle development cost varies. The best way to know the estimate of development is by scheduling a meeting with your app development company.  The company will evaluate your development needs, features, and other complexity of the app. By taking all of these factors into account, the company will provide an estimated cost of the development.
Final Take
The market for eBook reader apps is continually growing and creating new business opportunities for all scales of businesses. The best thing about eBook reader app development is that it requires no physical installation, and can be started with a minimum possible budget.
The mobile app idea of developing an app similar to Kindle is highly potential. But you won't be able to unlock the full potential of it without having the right team of people on your side.
Hire the right mobile app development to ensure all your development expectations are met with reality.  For reference to the best companies, you can consider checking out App Development Agency's list of the top mobile app development companies.
FAQs
How to buy books on Kindle app?
The process of buying books on the Kindle app is quite simple. All you have to do is open the app, search for the book you want to purchase, and complete the purchase using the preferred mode of payment. This is how you can buy books on the Kindle app.
How to use the kindle app?
Open the Kindle app on your Android or iPhone, go to the library of books and choose the book which you want to read. This is how you can use the Kindle app.
How does the kindle app work?
Sign in using your Amazon account to get access to the Kindle library. Upon purchasing a book on the app, it is immediately sent to the Kindle app, where you can easily read it.