NFT or non-fungible token is a term that is creating a buzzword worldwide. The presence of NFTs can be seen in every sector ranging from fashion, finance, art, and real estate.
The NFT art segment worldwide generated an aggregated sales volume of $77.5 million in the past 30 days as of 15 May 2022.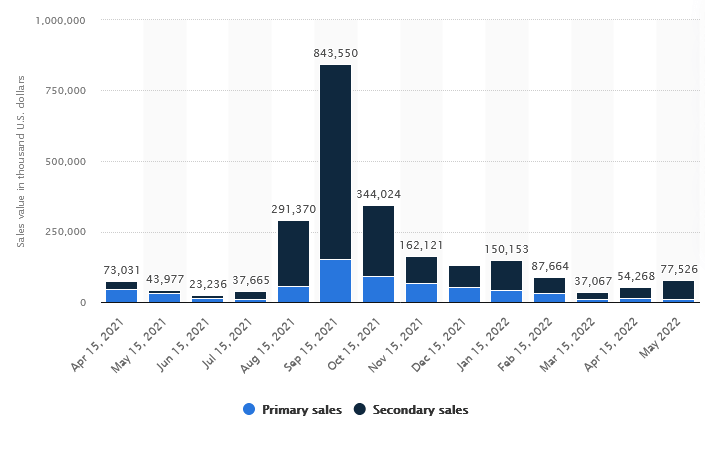 Image credit: statista.com
Have you ever wondered why NFT creates so much hype in the art segments? Why is your favorite artist launching his own NFT?
All of these questions have a similar answer, that is, NFT is offering artists a platform known as the NFT marketplace where they connect directly with their fans, cutting out the involvement of the middleman and galleries.
Do you wish to know more about NFT marketplace development? Scroll down, we have covered all the information here you need to know about the NFT marketplace.
What Does an NFT Marketplace Development for Art Mean?
First, let's start with the introduction of what NFT is.
NFT stands for the non-fungible token, which is based on the same technology as cryptocurrencies, namely blockchain.
In simple words, NFT can be termed as the digital assets that are associated with digital collectibles like art, music, game, and so on.
As said earlier, the NFT marketplace is a place where all the buying, selling, and bidding process of non-fungible tokens take place.
Now, let's come to the question, what does an NFT marketplace development for art mean?
NFT art marketplace is an online platform where both artists and their fans can register themselves to take part in the buying and selling process of arts in digital forms.
How Can NFT Marketplace Development Benefit Artists?
NFT aka non-fungible tokens can offer a lot to artists including:
Access to Global Market
NFT art marketplace enables the artists to connect with the global audience directly eliminating the need for middlemen.
Many small artists often have access to limited people only, with NFT they will be able to attract investors from worldwide.
Predominant Security
In the traditional dealing of the artwork, there are a lot of loopholes regarding the security, even if the deal happens online.
With NFT such security limitations can be overcome easily as NFT functions as an immutable digital signature that cannot be altered at any cost which provides both buyers and sellers with a great level of trust.
Lower Entry Barrier
New and small artists often struggle to showcase their artwork in front of their fans. For such artists NFT provided a hassle-free manner for distributing their artwork with very low upfront investment.
Instant Transfer of Digital Assets
All the transactions of NFTs are recorded on the blockchain most prominently on Ethereum which ensures the minimal time for buying and selling digital assets.
Besides these, the NFT marketplace for artists can deliver several other benefits to artists as well including:
How to Develop an NFT Art Marketplace?
There are two ways to develop an NFT art marketplace. Either you can go for custom NFT art marketplace development or you can opt for Whitelabel NFT marketplace development solutions.
If you go for custom development, then it is a must for you to follow the following steps:
Choose an NFT Development Company
Without having access to the right team of NFT developers, you won't be able to execute your idea of developing the best NFT marketplace for artists.
Shortlist a few companies that have specialization in NFT development services. Thereafter, look out for their portfolio, previous client reviews, and how well they fit into your budget to select the best firm for your project.
It would be in your best interest to choose the one that specialized in NFT development rather than choosing a general development company.
Design UI/UX of NFT Marketplace
Whenever a buyer or seller visits a marketplace, what's the first thing they notice? For most of us, it's UI/UX design. So it is pivotal that your NFT marketplace UI/UX design is user-friendly and easy to navigate.
Have a word with the designers and ask them to provide you with the design mockups before working on the design implications. Review the design mockups carefully and add your suggestions to them to finalize the best design for your marketplace that attracts individuals in the long run.
Front End Development and Smart Contract
Once you have finalized the design, the next part is to bring your idea to life with the help of front-end development.
Alongside the front-end development, your chosen team of NFT developers needs to work on creating smart contracts to ensure the backend functionality of the application.
The smart contract generally comprises the set of rules that facilitates the transfer of ownership of digital assets from a seller to the buyer.
Test and Launch NFT Marketplace
Before launching an NFT marketplace it is essential to test the NFT marketplace to detect any backlogs that can hamper its functionality. So they can be fixed before they create problems for your marketplace users.
Alongside the testing also have a clear discussion with your NFT art marketplace development company regarding the post-maintenance services.
Must-Have Features for NFT Art Marketplace
Here is a list of the vital features for NFT art marketplace development:
Storefront
Storefront is meant to offer the users all the information related to non-fungible tokens such as bidding price, owner detail, price history, and so on.
Filters
As the collection of NFTs increases in the marketplace, it becomes a difficult challenge for users to find particular NFTs. This feature will enable the users to filter the items by category, listing times, payment methods, and so on.
Advanced Search Options
Consumers should be able to get the ultimate information they want to know before purchasing an NFT token. For instance, tokens can be sorted by the different options like it can be for images, music, videos, memes, art, and so on.
Create Listing
Make the process of creating a listing hassle-free to ensure artists can easily fill in the required information.
Bidding Option
The NFT marketplace should be equipped with a feature that enables the users to buy and bid for the particular NFTs with ease.
Wallet
NFT art marketplace should be employed with the wallet to allow users to store, send and receive non-fungible tokens with a greater level of blockchain security.
How Much Does it Cost to Develop an NFT Art Marketplace?
How much does it cost to develop an NFT marketplace app? This is a question for those who have a limited budget.
The cost is calculated depending on the amount of work required to complete the project, and the features it includes.
If the cost is the major factor of consideration for you, then you can opt for the white label NFT marketplace. These are the pre-build solutions that come with certain customization abilities.
Telling the actual cost of development without knowing the requirement is not a feasible thing. For an estimation, you have to contact an NFT art marketplace development company and share your requirements with them. Depending on the complexity of the project they will predict the development cost.
Let's Pick the Best NFT Marketplace Development Company
Now that you know what the NFT marketplace for artists is, the next step is to connect with the NFT development company to turn your vision into reality.
However, with so many options available, choosing the one that is right for your project is like finding a needle in a haystack.
App Development Agency can offer you a list of the best NFT development service providers that can turn your idea into a revenue-friendly reality. Here you can compare the companies depending on multiple factors such as location, the number of developers companies have hourly resources, prices, experience, and so on.
FAQ
What Is The Best NFT Marketplace For Art?
Since non-fungible tokens are becoming increasingly popular, there are hundreds of NFT marketplaces available. Among those following are the most beneficial ones:
OpenSea
Foundation
Rarible
SuperRare
Nifty gateway
How Can I Choose The Best NFT Development Company?
You can find the best NFT marketplace development company by following these best practices:
Check the portfolio
Pay attention to client reviews
Skill and technology competencies of the company
Do they have experience in offering NFT development services
How they quote prices for their services
Depending on these factors, App Development Agency can provide you with the name of the best NFT marketplace development companies. 
How Long Does It Take To Develop An NFT Marketplace For Artists?
The timeframe required to develop the NFT marketplace is subject to the requirement, features, number of developers working on the project and so many others. All of these factors vary from project to project, so it is impossible to estimate the exact timeline for NFT marketplace development for an artist.